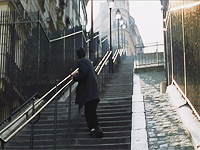 In 1997, for its fiftieth anniversary, the Cannes Film Festival asked director Leos Carax for a short film; a visual postcard addressed to the festival in which the director could give news of himself and of his current project, Pola X.
This official explanation almost suggests some slight, vaguely conventional documentary-like film piece, in which the filmmaker could pay lip-service to the festival organisers and discuss some of the greater trials and tribulations involved in getting his project off the ground. Instead, Sans Titre (1997) is a film that not only works in its own right – drawing us in with an enigmatic story presented in an entirely visual way – but also complimenting the themes and ideas behind the underrated masterwork that is Pola X, in such a way as to make it entirely essential.
This short, eight minute film blends elements of stock footage, solarised imagery, inter-titles, music and video effects to create an enigmatic portrait of loss and disconnection that is open to ideas of both visual and metaphorical interpretation. It's not only a fascinating insight into Carax's entirely personal working methods, but also a fascinating look at the more cryptic, unspoken themes presented in Pola X. In fact, if we were to ignore the first few minutes of the film – in which festival stock footage from the first fifty years of Cannes is presented as a kaleidoscopic montage – and focus instead on the latter half, we see a particular foreshadowing of the events and themes of Pola X playing out in such a way as to not only suggest that this film could be viewed as something of a thematic a prequel to the subsequent project, but also that this film is being used as something of a moving storyboard.
Unlike Pola X – which is rich in design and detail – Sans Titre draws heavily on the influence of legendary filmmaker Jean Luc Godard. This is notable in its cross format use of film and video, as well as on-screen text, voice-over and loud, disarming music. With this in mind, the film reminds us of Godard's difficult 70's period of film-making, and in particular, of the short film In Scénario de 'Sauve qui peut la vie' (1979). In that particular project, Godard discussed the various themes and ideas of his subsequent film Sauve qui peut (la vie) (1980) in the style of an esoteric visual essay. Carax, of course, is one of the filmmakers most clearly influenced by Godard, even appearing as an actor in Godard's widely criticised adaptation of King Lear (1987), as well as paying homage to the older filmmaker with his earliest films, Boy Meets Girl (1984) and Mauvais Sang (1986); so it is perhaps of no surprise that the influence of Scénario de 'Sauve qui peut la vie' and of Godard in general is all over the thematic presentation and conceptualisation of the film in question.
In keeping with these parallels, some of the imagery of Sans Titre is vague and enigmatic. Other sequences are almost comical; recalling the Chaplin influenced sequence from Mauvais Sang. However, the overall tone of the film is cold and melancholic. One of the most memorable series of shots from Sans Titre depict a man (possibly Carax) lying on a bed that is covered by a crumpled, white sheet. Next to him, painted in a grotesque, Francis Bacon-like manner on the sheet itself is the figure of another person. The man is attached to the figure and mourns for it, longingly, as if it were the spirit of a dead lover; whilst within the sequence of shots we have other footage of empty streets, flickering computer monitors, and home video footage of two children laughing, fighting and snuggling in bed.
The themes of family, alienation, loss, disconnection, late night melancholy turned creativity, secrets and lies are all familiar from Pola X, with darker implications of the incestuous notions suggested by that film's source novel, Herman Melville's Pierre: or, The Ambiguities. Even the footage from other films – mostly of flickering black and white moments of crippling melodrama from silent cinema – present these same themes and ideas as well as endearing Carax – always a provocative figure within the wider context of French cinema – as a film artist equal to the superior likes of Godard, Welles, Fassbinder, Tsukamoto, von Trier and Kieslowski.
The purposely enigmatic quality of the title illustrates that this is a minor work, or an unfinished sketch of creativity; with Sans Titre – no title – also recalling the ironic and unsentimental titles of the director's previous work, from Boy Meets Girl and The Lovers on the Bridge (1991) to Pola X, with its literary acronym and use of Roman numeral to denote the various draft of the script. Sans Titre is admittedly a minor work, though it is one that enriches the context of the more significant film that followed and, as with the relationship between Godard's Scénario de 'Sauve qui peut la vie' and the eventual film that he would produce, demonstrates that Carax, as a filmmaker, is in complete control of where his film's are going and the shape that they will eventually take. imdb
Directed by Leos Carax / France / 1997
Share this film