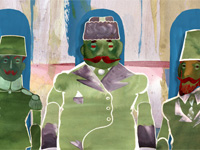 Constantinople 1910.
The streets are overrun with stray dogs.
The newly-established government, influenced by a model of Western society, uses European experts to choose a method of eradication before deciding, suddenly and alone, to massively deport the dogs to a deserted island away from the city.
Won Golden Palm at Cannes Film Festival, 2010.
Directed by Serge Avedikian / France / 2010
Share this film