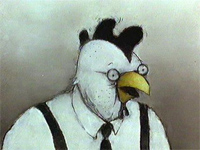 After witnessing the accidental death of a stranger, Ruby seeks affirmation in the city around her, and finds it in surprising places. With deft humor and finely rendered detail, When the Day Breaks illuminates the links which connect our urban lives, while evoking the promise and fragility of a new day.
Co-directors Wendy Tilby and Amanda Forbis use pencil and paint on photocopies to achieve a textured look suggestive of a lithograph or a flickering newsreel. In When the Day Breaks, the ordinary – a lemon, a toaster, a chance collision on a street corner – is endowed with a visceral power. A film without words.
Just watch it till the end, and when you got the message – you WILL smile at least, I promise.

Won Golden Palm at Cannes Film Festival, nominated for Oscar, another 20 wins.

Directed by Amanda Forbis and Wendy Tilby / Canada / 1999
Share this film